Get ready, film buffs. The Modern Hotel's in-room film festival 39 Rooms brings some truly stellar short films to the comfort of your hotel room!
A combination of one of the country's most creative hotel experiences and unique film festivals—you can't buy tickets; you have to be a guest at the Modern to attend—39 Rooms showcases independent short films from around the world on the hotel's closed-circuit Channel 39. 

The current batch includes a comedy about a girl, a dragon, and her would-be rescuer; a documentary featuring a helpline for children who need a listening ear; a drama about an adolescent boy's troubled memories of a mysterious infestation and his father's unravelling; a musical tale of witches, persecution, and revenge; and more. The films come from Iran and New Zealand, Mexico, Poland, France—with themes universal and unique, familiar and fantastical.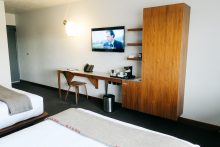 Each film is less than 20 minutes long, for a total running time of 2 hours and 22 minutes. Guests can dip in and watch a few here and there during downtime, or watch the whole festival on a night in, propped up on one of the Modern's notoriously comfortable mattresses. The films are carefully curated by knowledgeable film experts, and well worth a look. "Bringing the film to the audience, instead of the other way around; what a brilliant idea," says featured director Samantha Silva. The Modern: the only place to stay in Boise where you can see what they're watching in the rest of the world.
We'll be taking submissions for our in-room film festival's 2021-22 season on FilmFreeway soon! Click here to view dates and submit a film.
The 2020-21 Lineup:




Thanks for watching!
For more information about our 39 Rooms Film Festival, email robert@themodernhotel.com.