This Spring, Campfire Stories returns to the Modern Bar for a seventh season!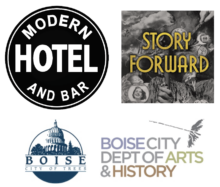 Join us in the courtyard, every 2nd Monday, May to October, 7 – 9 p.m.
Stories are central to the Modern Hotel. Our story is planted deep in Idaho, in the rich history of the west, Basque boarding houses, sheep herding, immigration, the American dream and stories told around the campfire by pioneers. We tell the story of how the Modern came to exist each time a guest inquires about the pictures on the walls of our lobby.
Campfire Stories is produced by Christian Winn, who has invited writers from around Idaho to read their work. Thanks to Story Forward and a grant from the Boise City Department of Arts and History, original fiction, creative nonfiction, poetry, screenplays and more will be offered from Idaho's rich literary community. Join us around the fires in the courtyard and experience this fun, intimate storytelling event!
Lineup:
June 12 / Bethany Schultz Hurst, Matthew J Babcock (coming in hot from Eastern Idaho)
July 10 / Jodeen Revere, Lily Yasuda, Heidi Kraay
August 14 / tai simpson, Tomas Baiza
September 11 / Kim Cross, CMarie Fuhrman
October 9 / Allison Maier, Ariel Vazquez, Rebecca Evans