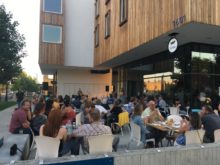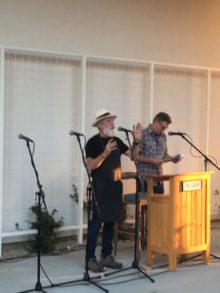 The last Campfire Stories of the season is Wednesday, October 31—Halloween night.
A liminal time, Halloween traditionally marks the end of the harvest, the end of summer's light and warmth and the beginning of winter darkness.
In fact, it's believed that on Halloween, the boundary between this world and the Otherworld is so thin, the souls of the dead can easily return to their familiar haunts, seeking hospitality; in some customs, places are still set at the dinner table and by the fire to welcome them.
What better way to spend such a holiday than gathered around a campfire, listening to scary tales, warding off the darkness and toasting the departed (summer of stories) with delicious food, warm laughter, and celebration?
Join host and author Christian A. Winn from 7-9 p.m. on the patio at Txikiteo, as we say goodbye to the 2018 summer season of Campfire Stories and welcome the coming winter with open arms. Share treats from Txikiteo's excellent wine list and delicious tapas menu, and see what goosebumps-raising tricks featured authors Alan Heathcock and Tom Griffith have up their sleeves.
RSVP to Campfire Stories, Oct 31st here!
Admission is free and all ages are welcome for what is sure to be a memorable evening. But don't take our word for it; below are a few testimonials from the 2018 season: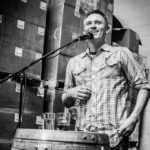 "This year (2018) we made the move from the Modern's patio around the corner to their new spot, Txikiteo. This allowed us to grow the crowds, and add new varieties of food, drink, and setting [for the] authors, poets, podcasters, and actors telling their stories. Dan and the Txikiteo crew rolled out the Basque-flavored hospitality to the hilt all season…To close out we're going spooky, creepy, dark, and haunting with fiction writers Alan Heathcock and Timothy Griffith on Halloween night. This will be a great way to close out an amazing fifth year of Campfire Stories, and get the kindling gathered for season six!"—Christian Winn, author; curator and host of Campfire Stories.
"The thing that stood out about this season was how the event moved even further into performance. In any given event you could hear a great writer read a great story and then hear a theater troupe like Migration Theory fuse spoken word, performance and sound. More than ever Campfire Stories became a showcase for living words. Favorite food? Easy–Dan Ansotegui's seafood paella."—Wayne Birt, Program Director and Production Manager, Radio Boise.
"Writers, wine and a tasty cheese board make for a very good night."—Matthew Cameron Clark, Creative Director, Boise Contemporary Theater.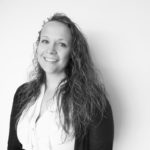 "We had a rad n' fab time at Campfire Stories. It was particularly nice to see the new digs at Txikiteo. The people were warm (although it might have been the 95-degree heat), the lamb was lovely, and we cooled off by keeping a sour brew close at hand. Thanks, Txikiteo!"—Lacey Daley and Joel Wayne, hosts/creators, You Know The Place podcast.