Our new summer cocktail menu is one to note. Featuring a comprehensive wine selection, Original Cocktails (like the new TMP cocktail), great new beers and interesting classics.
Our three featured classic cocktails are full of rich history. Such as the Ramos Gin Fizz (circa 1888), which was invented by Henry Ramos and his Imperial Cabinet Saloon. This eponymous fizz became one of the most beloved of all New Orleans cocktails. Served only in his bars, Ramos kept the recipe closely guarded until Prohibition rendered his trade secret useless. Consisting of gin, lemon and lime juice, sugar, orange flower water, egg white, cream and fizz, the drink in not concocted by the weak. Taking almost five minutes of shaking, historically Ramos would hire a line of "shaker boys" who would shake the cocktail then pass it down the line, once it arrived to the end of the line the cocktail was ready to serve. Known for it's fluffy, rich texture, the Ramos Gin Fizz is an ideal leisure cocktail.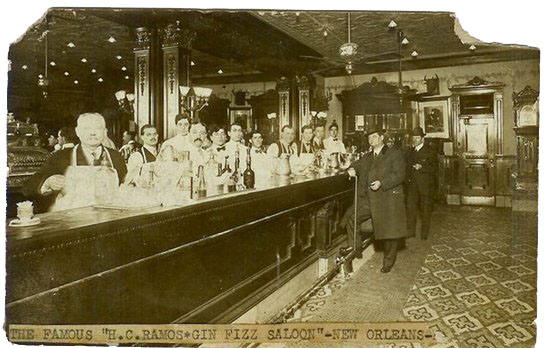 Besides the Ramos Gin Fizz, the Cameron's Kick and the Bijou Cocktail have also made it onto the new Summer Menu. The Cameron's Kick is an Irish Whiskey & Blended Scotch cocktail, dating back to the late 1920's. Little is know of the origins of this drink. We don't know who created it or what inspired the unlikely combination. We do know that it was recorded in two separate London cocktail manuals printed around 1930. A sour-type cocktail using some unusual ingredients such as Orgeat, makes the Cameron's Kick a perfectly blended, engrossing and easy to drink cocktail.
The Bijou is a cocktail almost lost to prohibition and the cruel indiscriminance of memory, nut more than deserving of revival. Constructed from an herbal liquor, and herbal liqueur and herb-infused wine, it is an immensely complex tipple , that begs to be savored and contemplated. the Bijou Cocktail is a Gin based drink with Chartreuse, sweet vermouth, orange bitters, lemon twist. Up, olive optional.
Image taken form: http://chanticleersociety.org/cfs-filesystemfile.ashx/__key/CommunityServer.Wikis.Components.Files/cocktails/1134.Ramos-Saloon.jpg