Community Event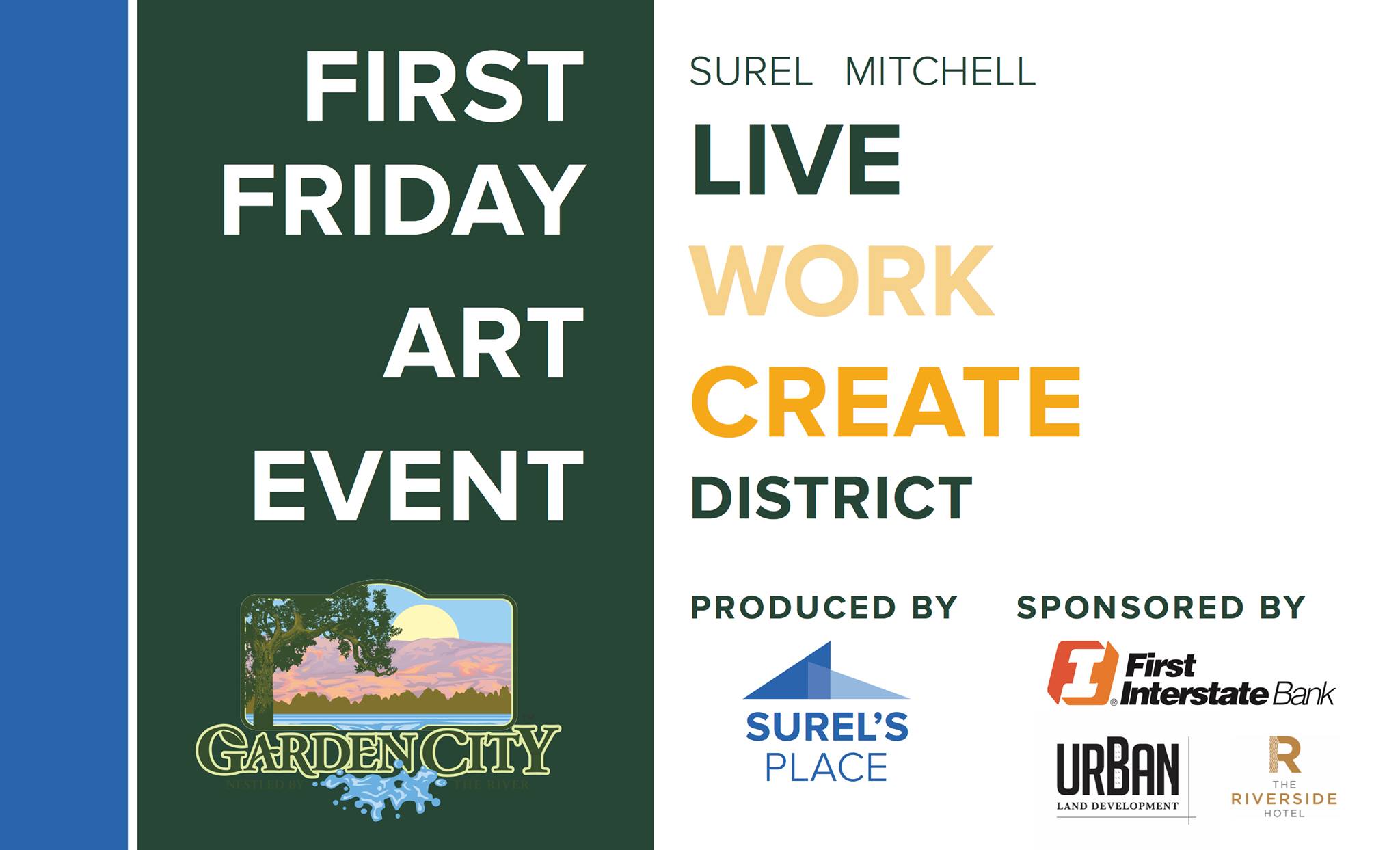 First Friday in The Surel Mitchell Live Work Create District in Garden City features over 20 venues and more artists from the Riverside Hotel to 38th Street. Venues also include Door #3, Garden City Projects, Gossett Landscape, Madacsi Studios, Push and Pour, Corridor Surf Shop, Serenity Soul Center, Studio 1212, Urban Gallery, The Visual Arts Collective, the Yardarm, and Zion Warne Glass. 
The Riverside Hotel and Urban Land Development are sponsoring a free shuttle from 6:00pm – 9:00pm which will run in a continuous circuit to all the different venues!
First Friday is supported in part by First Interstate Bank, the City of Garden City, and Urban Land Development. 2018 Dates are: August 3rd, Oct 5th, and Dec 7th.
Artists/Venues Include:
*Casey Hallas
*Chili Dreams: Fred Deibel Pottery
*Cloth Textile Studio
*Corridor Paddle Surf Shop
*Door #3 Collaborative Workshop
*Garden City Projects
*Gossett Landscape: Idaho Plein Air Society
*LaDeDa Jewelry- Angie Sebolt
*Madacsi Studios- Erin Cunningham, April VanDeGrift
*Pam and Marianne's Clubhouse-
*Push & Pour-
*The Riverside Hotel: Music (5pm-8pm)
*Bar 365 Lobby Gallery- Best of BOSCO
*Roots Zero Waste Market
*Serenity Soul Center
*Spaceport: Studio 1212/Derek Hurd
*Starbelly Dancers
*Surel's Place
*Tactile Studios: Fluff Hardware, Fourth Wave Apparel,Rachel Teannalach Art
*Torched Glassworks
*Twisted Ewe
*Urban Gallery: Susan Valiquette & Kay Seurat. Plus, out on the porch it's Starbelly Dancers
*The Green Box: "Fertile Remnants" by Clarissa Callesen
*Visual Arts Collective: Michael Cordell and Erin Cunningham
This venue is 21-and-over only
*Yardarm:
This venue is 21-and-over only
*The Yellow Brick Road: Dorothy's quilts and curiosities
*Zion Warne Studios
*The 34th Street Market
Food Available: Riverside Hotel, Yardarm, Caffe Luciano's, The Ranch Club, The Sandbar
*Artists and venues are subject to change at any time