Community Event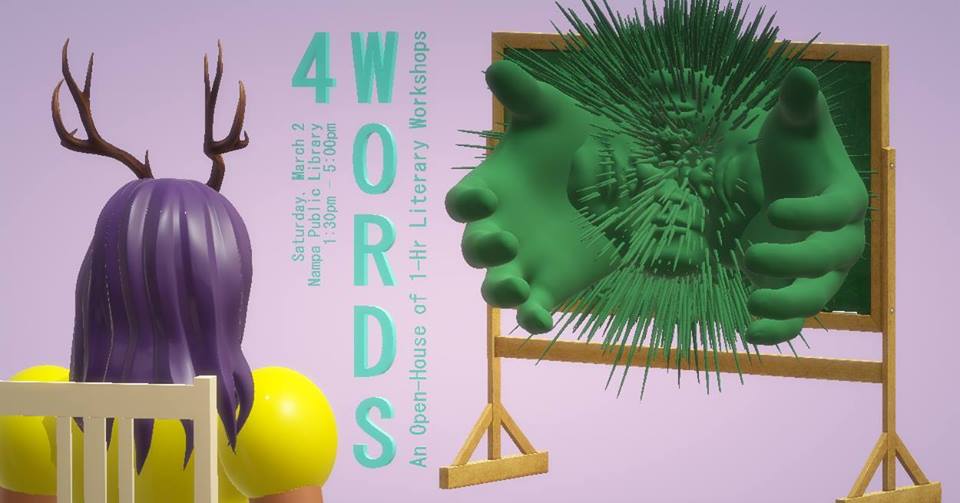 You there, down-hearted scrivener by day's light, wishful weaver of tales & turns by night! If whims & words you fancy, then wander thy weary self to the Nampa Publick Lectorium of Miscellany, & there receive the coveted auspices of Semi-Compleat Literary Wisdom, as Death Rattle Writers Festival presents a scribbler's medley of swift & sundry literary workshoppes! *agitated cackling*
—
Ha ha, pretty cool, huh? I wrote that intro using the skills I learned at a Death Rattle workshop last year… and you can too! On Saturday, March 2nd, join me at the Nampa Public Library for a series of short workshops on literary subjects such as poetry, fiction, playwriting, and comics, won't you?
Oh, by the way, I can tell from that look on your face that you're probably wondering who I am right about now. Ha ha, well, I'm just another aspiring wordsmith like you, my friend…
[As they put on a very cool, very familiar pair of sunglasses and disappear into the afternoon mall crowd, you realize they were you from the future, and you just smile and shake your head. You can't believe how cool you're gonna turn out because of these workshops. The End.]
We've got Debbra Palmer, Catherine Kyle, and Dakota Brown teaching three of the workshops! Stay tuned for more deets on what they have planned for you!
Saturday, March 2
Nampa Public Library
1:30pm – 5:00pm
More details to be announced as we get closer to the date!
All ages & experience levels welcome!