Community Event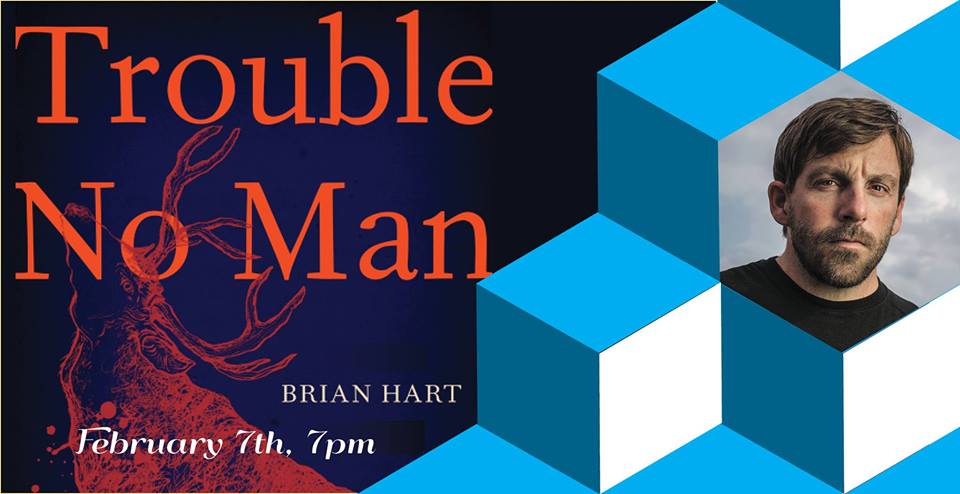 Influenced by the Bundy Standoff and Hart's personal bike tour of northern California and southern Oregon, TROUBLE NO MAN tells the story of Roy Bingham, who after a rough-and-tumble childhood is numbing himself with skateboarding, drugs, and sex; and fierce, soulful Karen who pulls Roy into her orbit. It isn't long before she decides to give up their nomadic lifestyle to put down roots in her hometown of Loyalton, California. After a boozy night in Reno, Roy buckles under the commitment and leaves Karen for the road and skateboarding.
Fast-forward thirty years, northern California and the Pacific Northwest have become a desolate wasteland controlled by violent separatist militias and marked by a lack of water and fuel. In a village outside Reno, a middle-aged man visits an undertaker and gathers the ashes of his dead wife to bring to Alaska. There, their children await them—refugees from the destruction of the south. To reach his only remaining family, the man must cross the treacherous, violent landscape north by bike, his dog his only companion.
Flashing back and forth in time across four decades in the life of a man who is lost even when he's found, TROUBLE NO MAN delivers a resonant, timely story of survival, violence, and family, set against the tumult of an America on the precipice of becoming an unfree nation—perfect for fans of Edan Lepuki and Cormac McCarthy.
Noted as "brilliant" (Publishers Weekly, starred review) and "Dickensian" (New York Times Book Review), Brian Hart has captivated critics with his scrupulous prose, propulsive plot, and immersive, vivid landscapes. In TROUBLE NO MAN, Hart's epic saga set in a dystopian landscape will consume readers until the final explosive page.
Brian Hart is the author of the novels The Bully of Order and Then Came the Evening. He lives in central Idaho with his wife and two children.