Get ready, film buffs. The Modern Hotel's in-room film festival 39 Rooms brings some truly stellar short films to the comfort of your hotel room!
A combination of one of the country's most creative hotel experiences and unique film festivals—you can't buy tickets; you have to be a guest at the Modern to attend—39 Rooms showcases independent short films from around the world on the hotel's closed-circuit Channel 39. 

The current batch includes a drama about a Chinese-American girl trying to navigate her parents' deteriorating relationship; a comedy about a girl, a dragon, and her would-be rescuer; an amusing documentary shot aboard an all-inclusive cruise ship; a drama about an elderly man who becomes infatuated with an immigrant care-taker he has hired to take care of his ailing wife; a musical tale of witches, persecution, and revenge; and more. The films come from Sweden, New Zealand, Mexico, Poland, Austria and the U.S.A.—with themes universal and unique, familiar and fantastical.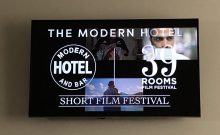 Each film is less than 30 minutes long, for a total running time of 2 hours and 11 minutes. Guests can dip in and watch a few here and there during downtime, or watch the whole festival on a night in, propped up on one of the Modern's notoriously comfortable mattresses. The films are carefully curated by knowledgeable film experts, and well worth a look. 
Thanks for watching!
For more information about our 39 Rooms Film Festival, email robert@themodernhotel.com. To see a list of films from the previous season, navigate to themodernhotel.com/39-rooms-2020
The 2021-22 Lineup: