In 2019, the Modern hosted travel writer Drew Beattie who, like all our favorite guests, has an unexpected passion. Beattie's passion? Those icons of America's late, great road-trip culture: the independently owned hotel. These mid-century beauties were once as much a part of the landscape—and the American middle-class vacation—as roadside diners. This summer, Beattie is crossing the country on a motorcycle to visit and record the last remaining vestiges of this piece of Americana, in a journey that is at once adventure story, travel guide, and homage to these beloved establishments.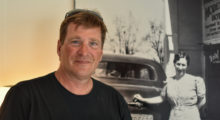 Beattie says that in 1964, "There were 61,000 independently-owned/operated motels in America. But so many have closed, or become chain properties, that now only 6,500 of these motels are operating in the U. S." Of those that remain, "Many of those have become a place you'd never stay at. They're too decrepit, or there's nothing of the original charm left." Beattie stays at and logs those that have not only survived, but thrived. Some are restored, some are mom-and-pop places handed down through generations, but all retain the style and flair emblematic of the original era. The Modern is honored to have made this list.
Find the Modern on The Motelorcycle Project and take advantage of Drew's research to plan your own trip. Beattie's routes are geared toward motorcyclists, but folks in cars will get lots of useful information, as well. The photos are gorgeous and his descriptions will whet the appetite of all travelers.