Part al fresco entertainment, part gourmet barbecue, Camp Modern is the hotel's headquarters for all things Treefort during the three-day arts and music festival. Laid back, fun, and funky, Camp Modern is a great way to edge your way out onto a Treefort branch and keep the vibe going!
Camp Modern will be open
March 24 -26, 2023
1 – 10 p.m.
Entry is free for everyone! 
Our Treefort Second-Chance Stage is a festival favorite and you can experience it for free! Perched on wooden benches set up campfire-style around the stage, fans enjoy an unusually intimate concert experience with Treefort bands who stop by to play in between the festival's regular lineup. Scroll down to see the CAMP Modern second-chance stage schedule and click on the band name for details. 
Folks can get Treefort-inspired drinks and nosh either inside the bar or outside in the courtyard and around camp. The firepits are a great place to warm up (it's March in Idaho; this isn't Coachella) with specialty drinks and food created by our acclaimed kitchen and bar team.
BUNK DOWN AT THE MODERN FOR TREEFORT!
Book your Treefort stay before March 15 and we'll give you $50 in 'Bunkhouse Bucks' to spend at CAMP Modern. Bring family and meet friends to experience Treefort bands at our intimate outdoor second chance stage, dine on creative camp food, and sip fun, custom cocktails. Use promo code BUNK for $50 food & beverage credit with your stay!
GETTING AROUND DURING TREEFORT!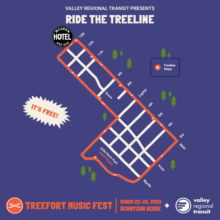 The best way to get to and from the Modern during Treefort is by taking advantage of the FREE 'Treeline' shuttle service in downtown Boise.
BONUS! You also can ride any Valley Regional Transit bus for free by showing the bus operator your wristband!
Wednesday: 6pm to 12am
Thursday: 6pm to 12am
Friday: 6pm to 12am
Saturday: 6pm to 12am
*note* busses do not run on Sundays
SECOND-CHANCE STAGE LINEUP!
Friday / March 24
3:00 – 3:40 Frankie Tillo
4:00 – 4:40 Motherhood
5:00 – 5:40 The Painted Roses
6:00 – 6:40 Cal in Red
7:00 – 7:40 The Mitras
8:00 – 8:50 Summer Like the Season
9:10 – 10:00 !Mindparade
Saturday / March 25
Hermit Music Festival Showcase!
1:00 – 1:40 Hurdy Gurdy Girls
2:00 – 2:40 The Heligoats
3:00 – 3:40 Burl Haggard
4:00 – 4:40 Jenny Don't & The Spurs
5:00 – 5:40 Jeffrey Martin
6:00 – 6:40 The Pine Hearts
7:00 – 7:40 Hillfolk Noir
8:00 – 8:50 Dusty & Stones
9:10 – 10:00 Good Looks
Sunday / March 26
2:30 – 3:30 Bill Coffey & His Cash Money Cousins
4:00 – 4:40 McKenna Esteb
5:00 – 5:40 Cat Valley
6:00 – 6:40 Social Cinema
7:00 – 7:50 Friko
8:10 – 9:00 Meredith Lane
NOT-YOUR-AVERAGE-CAMP-FOOD CAMP FOOD!
STARTERS
Cauliflower – $9
Fried, pepperoncini, lemon, olive oil, parsley, dukkah, dry cured olives, charred baba ganoush
Bread and Butter – $8
Pickles, marinated castelvetrano olive, whipped butter
Bib lettuce – $9
Organic bib lettuce, cashew butter, pickled onions, radish, savory granola, bleu cheese
Smoked salmon chowder – $8
New England style chowder, house smoked salmon, sourdough bread bowl, oyster crackers
Local mushroom bisque – $7
Local oyster mushrooms, crispy lions mane, truffle oil,  vegan
SANDWICHES & MAIN
Portobello reuben – $13
Smoked portobello, picante provolone, house kraut, garlic aioli, rye
Grilled Chorizo – $14
Ansot's basque chorizo, mozzarella, herb aioli, arugula, H&H tomato, hoagie
Lamb shoulder – $14
Garlic and olive oil lamb shoulder, roasted peppers and onion, provolone, hoagie
Solomo – $14
Espellette spiced pork loin, mama lil's goathorn peppers, grilled onion, provolone, hoagie
Jamon Sandwich – $14
DESSERT
Smores Bar – $4
Graham crust, chocolate ganache, toasted meringue
Chocolate chip cookies – $5
Candied pecans, dark chocolate, sea salt
Donuts – $7
Hand dropped, lemon curd, cinnamon sugar
FOODFORT!
Join Chef Kelly Grindstaff during Foodfort! He'll be there from 4-9 p.m. on Thursday, March 23 at the Hound Lounge (former Greyhound Bus Station) 339 N 12th Street, serving up dishes created with help from the good folks over at McIntyre Family Farms.
Foodfort is a weekend-long celebration of the food and food systems local to the greater-Boise area. As the culinary branch of the Treefort mothership, Foodfort works to bring local, regional and national chefs, media, and culinary experts together to facilitate thinking and discussion about food in our daily lives.
BARTENDER SHOWCASE!
Continuing the fun at Foodfort on Friday, March 24, bartenders Meghan Riggs & Chris Kotansky will showcase their original cocktail creations behind the bar at the Bartender Showcase! 
Meghan will serve up her peach tea inspired Tire Swing from 3:00 to 6:30 p.m.
Chris will serve up his floral tequila Snooze Line from 6:30 to 9:00 p.m.
FOLLOW US ON INSTAGRAM FOR CAMP ANNOUNCEMENTS!
Modern Hotel: @modernhotel
Modern Bar & Restaurant: @themodernbar