"God sends meat, and the Devil sends cooks." It's not clear if Dan Ansotegui is actually sent by Satan, but one bite of his roast lamb and you'll think he for sure made a deal with him; it's that tender, that juicy, that crisply perfect. The public gets a chance to taste for themselves during Burning Lamb, the annual event that accompanies Treefort and features lamb on a spit, roasted to a nicety, in the parking lot at the Modern. The grilling will commence on Friday, March 23 and continue through Sunday, March 25.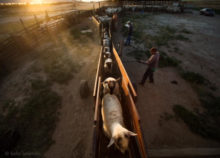 Part al fresco entertainment, part gourmet barbecue, the Modern's Burning Lamb began as an extension of an old Basque tradition. Ansotegui explains that when he was a boy, his family would travel to Ely, Nevada each summer for their Basque festival, where his father played music with the late, great Jimmy Jausoro, while his sisters danced with the Oinkari dancers. "After the Saturday night dance, which ended at around 3:00 a.m., the men of the Basque club would head up to the hills to begin preparing the next day's lunch. Their job was to roast eighteen whole lambs by noon the next day."
Everyone else went to the hotel after the dance to sleep, making their way to the feast later that morning. "The lambs had been roasting, three to a spit on six wooden spits, since about 6:00 a.m. The men would spritz white wine with garlic cloves over the lamb as it roasted over the coals of mountain mesquite. When the lamb finally came off, none of the rest of the items on the lunch menu mattered. You simply wanted as much of the crispy lamb as the cooks would give you."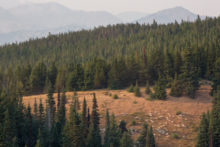 Ansotegui recreates this event at Camp Modern, the hotel's headquarters for all things Treefort during the three-day arts and music festival. Lamb is slow-roasted to perfection using the method Ansotegui learned from generations of Basque shepherd-cooks, served with a variety of delicious sides and beverages. People watch around the fire-pit, share a drink and a story with the chef as he tends the spit, and make this old event your new Treefort tradition. On egin!
Burning Lamb @ Camp Modern  March 23, 24 & 25
Free Admission – Family Friendly – Bike Parking
Pil Pil (salt cod with garlic, olive oil, chilis) $8
Chorizo with Red Beans, baguette $12
Marmitako (Albacore tuna stew, potatoes, peppers) $18
Roast Leg of Lamb, Saffron Rice, piperade (onions, green pepper, tomatoes, espelette) $16
Smoked Solomo, Pimentos, Olives, Garlic $15
Brunch (9am-2pm Saturday & Sunday)
Chorizo Papas Bravas and Eggs $10
Tortilla and Side Greens $8
Veggie Hash and poached egg $8
Cottonwood Rice Pudding w/ Wild Black Currants
Photos courtesy of Sofia Jaramillo, http://www.sofiajaramillophoto.com/. Sofia's photos are featured in the New York Times: Link to article here.
Burning Lamb 2017: