For ten years, The Modern has been about highlighting the best Boise has to offer by working with other local businesses, artists, and city leaders. In that tradition, The Modern is proud to introduce The Forager, a new cider by Meriwether Cider Company created in collaboration with the Modern's chef Nate Whitley and bar and restaurant manager Remi Courcenet. The Forager is a classic cider with a uniquely local twist.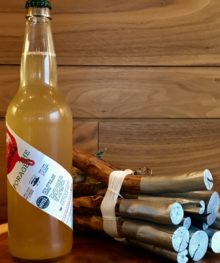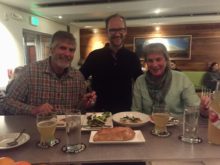 "The collaboration with Nate is part of our 'Chef Series Ciders' where we work with local Treasure Valley chefs to create a cider with ingredients and flavors they've come up with," says Molly Leadbetter of Meriwether. "Who knows better the best flavors to combine to create something different and delicious than our amazing local chefs?" The chefs drove the development of the cider, a long but rewarding process of tinkering with different percentages of ingredients to get the exact flavors the chef is looking for. "Our head cider maker had many different samples he brought down to The Modern for Nate and Remi to try; and both of them would also drive to our taproom to test the latest batches. It all paid off, and we couldn't be happier with the results—it is a truly delicious cider!"
It truly is: effervescent and apple-fresh up front, the addition of quince lends it a tropical aroma and a modest tartness; the whole is warmed and scented with yarrow foraged from the Boise foothills.
The Forager sold out at Meriwether's cider room on Chinden fast, but is still available in bottles at The Modern, where you can enjoy it paired with menu items specifically chosen to complement the cider. Go down and open a bottle today—here's to collaboration.